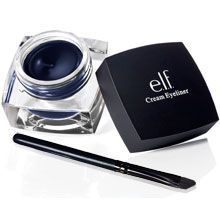 The colors I have are in black, gunmetal, coffee and white. I am in love with these cream eye liners! I'm not experienced with cream eye liners - in fact, I'll be honest, these are only the second cream eye liners I've owned. But, these are everything you could want in a cream eye liner! They're pigmented, easy to apply, long lasting and creamy. What more could I ask for?
The packaging of this product is gorgeous and they look very nice and professional. A little bit bulky but I'm not bothered by that at all. It comes with a twist off lid that you have to make sure you close properly or your cream eye liner will dry out. Overall, very attractive packaging! It also comes with a little brush which is very similar to the ELF Small Angled Brush, just with a shorter handle. I do prefer to use the ELF Small Angled Brush to apply this rather than the brush it comes with, but you can definitely work with the brush provided if you have to.
The colors are so pigmented! They're absolutely gorgeous. You don't need to keep going over and over to get a good, strong color. The staying power of these is pretty good, although after around five hours I noticed a little bit of smudging at the outer corners of my eyes. These are so creamy and easy to apply, too. I could never get my eye liner just right, yet with this I can achieve the perfect (well, almost!) line.
Swatches above! From left to right: coffee, gunmetal, black. I accidentally smudged the gunmetal liner at the bottom, sorry!
I really recommend these and I am definitely going to repurchase more.