Introduction
Hey! Today I'm going to be writing a review on the Liz Earle Naturally Active Skin Care products that I own. A lot of people have asked me to do a review so here it is! If you have any questions that I didn't answer in this post, feel free to comment below and I'll reply as soon as possible.
At around the beginning of January, I purchased the trial sized kit for dry/sensitive skin which you can find
here
. It comes with 30ml of Cleanse & Polish Hot Cloth Cleanser, 50ml of Instant Boost Skin Tonic, 15ml of Skin Repair Moisturiser, 15ml of Intensive Nourishing Treatment Mask, 2 pure muslin cloths and a lovely little bag to keep it in. I decided to purchase the trial sized kit because my skin is very sensitive and pretty much every skin care product I've ever used has irritated my skin. I really recommend getting the trial sized kit if you're interested in using Liz Earle as you do get quite a lot of product so it lasts for quite a while (mine lasted me for a month) and you can see how they really work for you.
I'm going to be writing seperate reviews for all of the different products I own but in this paragraph I'm just going to talk about what's similar in all of the products to avoid repeating myself all the time! One thing is that they all smell so good. It's a really unique smell, kind of minty and like a spa! Please don't be worried about the smell like I was. I was wary of using them because my extremely sensitive skin and fragrances really don't get on. Luckily, these didn't irritate my skin! While we're on that note, I'd just like to mention that none of these products dried out or irritated my skin whereas almost everything I've used in the past has. All of these products are packed full of naturally active ingredients which are extremely beneficial for your skin. I'd also just like to mention that the packaging of all of the products is so nice. They're a gorgeous light mint color and they just look so pretty! Okay then, let's get onto the seperate product reviews!
Liz Earle Cleanse & Polish Hot Cloth Cleanser
What Liz Earle says:
'Cleanses and gently exfoliates for smoother, clearer skin'
What I say:
You've probably already heard so much about this cleanser already, it's one of the most famous cleansers out there, it's won so many awards and I can see why. Liz Earle only offers one cleanser because it's designed to work for all ages and all skin types and from the reviews I've read on it, that's pretty much true. I can obviously only say how it's worked for me personally but I've read plently of reviews from people with different skin types and it's worked for almost every single one of them.
The cleanser comes in a long cylinder tube with a pump dispenser. The actual product is a thick, white cream.
I love applying this. It feels like you're giving yourself a facial everyday! The cleanser has two steps: cleansing and polishing. First, you cleanse. You take about a pump or more depending on how much makeup you're wearing. Anyway, you take about a pump and massage it all over your face in circular motions. It feels so nice and moisturising! Then, you polish. You take your muslin cloth, soak it in hot water and gently polish your face with it in circular motions. Not only does this remove the cleanser, you're also gently exfoliating your face! You finish by splashing your face with cold water. This may sound like a long process but it's really not, it only takes me about five minutes, which is really good considering you're cleansing and exfoliating. It's designed to take makeup off as well but I can't really comment on that considering I only wear mascara. I did use it to take off mascara and although it did work well, I prefer using an eye makeup remover before using this to avoid smearing mascara all over my face and the muslin cloth.
I really like this cleanser. It makes my skin so smooth, soft and clean after using it. It's the only cleanser that hasn't made my face feel tight, dry or stripped of its natural oils after use! I also love how the muslin cloth is gentle enough to use everyday. With my sensitive skin, I've found it impossible to find an exfoliator that isn't too harsh for my skin. However, with the muslin cloth, it's not going to irritate my skin and I can decide how much pressure I apply on my skin. It's perfect!
Liz Earle Instant Boost Skin Tonic
What Liz Earle says:
'Revitalises, soothes and tones for instant radiance'
What I say:
I've always wanted to use a toner in my skin care routine. Some people think it's just an unnecessary step but I think it's quite important. It removes any traces of dirt, makeup and cleanser, and in this case with the Skin Tonic, refrishes, soothes and brightens your skin. However, I've never been able to use a toner as most of them contain alcohol and dry out my skin like crazy. Luckily, this one is alcohol free and actually hydrates and adds moisture to your skin, so that's a huge thumbs up!
To apply this, you simply pour a generous amount onto a cotton pad and sweep over your face and neck after cleansing. I love using this! It makes my skin feels hydrated, refreshed and squeaky clean! What's not to love? Also, it smells absolutely amazing - it's a really strong floral scent - but doesn't sting or irritate my skin! Huge bonus!
I think it's safe to say I'm in love with a toner.
Liz Earle Skin Repair Moisturiser - Dry/Sensitive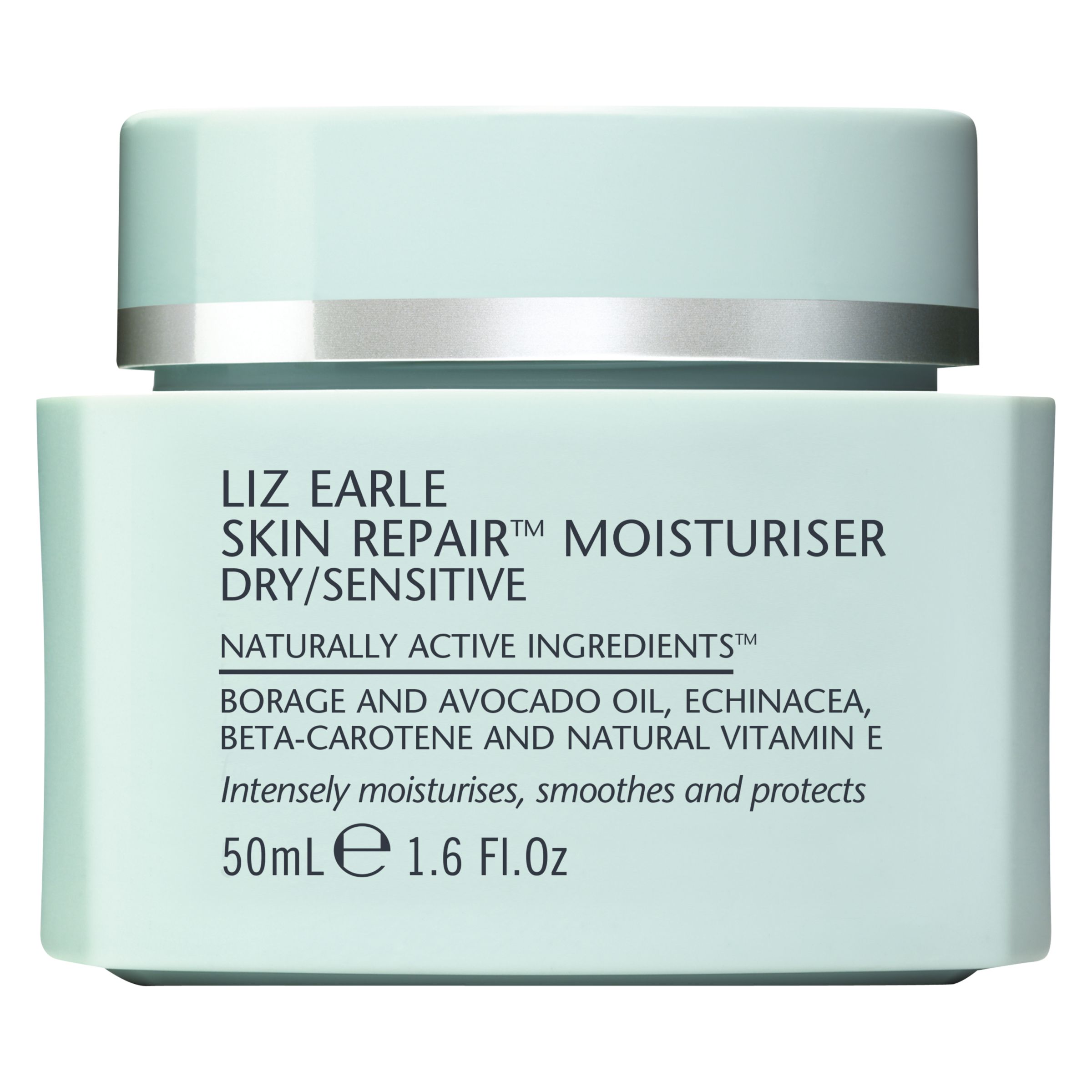 What Liz Earle says:
'Intensely moisturises, smooths and protects'
What I say:
Having dry skin, moisturisers are the biggest, most important part of my skin care routine. I'm very picky with moisturisers - they have to be light weight, absorb easily and not leave my skin feeling greasy or oily but they also have to really moisturise my skin. No moisturiser has ever lived up to my extremely high expectations except for this one.
As I have naturally really dry skin, I usually end up using a whole tub of regular moisturiser in literally a week. However, with this one, I use a pea sized amount for my whole face. Yes, a pea sized amount. I never thought I would say that, but this one is just so moisturising that you don't need a lot at all. It absorbs so easily and quickly and my face doesn't feel sticky, oily or greasy after using it but my skin still feels moisturised, hydrated and soft.
I also love that they make different moisturisers for different skin types - dry/sensitive, normal/combination and combination/oily - so you're sure to find a moisturiser that fits your skins needs.
Liz Earle Intensive Nourishing Treatment Mask
What Liz Earle says:
'Soothes and deeply rehydrates'
What I say:
I agree completely with what Liz Earle says. This thick, creamy mask really does soothe and deeply hydrate my skin - as simple as that. It's actually amazing how well it hydrates and moisturises your skin. Before I switched to Liz Earle, I was using Burt's Bees - big mistake. It broke me out and dried out my skin like crazy. But after using this, my skin was so smooth and soft!
To use this, you just smooth a thick layer of the cream to your face and neck after cleansing and relax for 10-15 minutes. I recommend doing this at night. Then, soak the muslin cloth and polish it off - just like you would with the Cleanse & Polish Hot Cloth Cleanser. Splash your face with cold water, follow with Instant Boost Skin Tonic, a small amount of Skin Repair Moisturiser and your skin will feel amazing!
Overall
Overall, I love every single one of these products and I honestly have nothing bad to say about them. I actually purchased the full sizes of all of them! They came beautifully packaged and with a book full of detailed information on all of their products.
I would really recommend these no matter what skin type you have or what age you are. If you do try these, I'd love know how they work for you!